The latest on the club's Book Prize Tournament and the weekly Arena and 5-round Swiss tournaments. And good luck to the Hampshire Juniors tomorrow in the 14th Online County Team Battle!
The Book Prize Tournament
Firstly, an update from Book Prize Tournament organiser Peter Przybycin:
Hi All,
Five results this week.
Steve Saunders 0 Rob Sims 1
Geoffrey Parish 1 Nobby George 0
Mike Henbury 1 Rob Strachan 0
Steve Dunleavy 0 John Kooner 1
Rose Saunders ½ Don Creasey ½
John Kooner continues to maintain his 100% record, although he had a hard time in this round against Steve Dunleavy.
Geoffrey Parish continues to improve and recorded his second win in a row.
Round seven pairings will be published once the final round six result is in.
All the best,
Peter.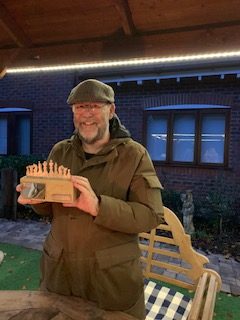 Online weekly Tournament results
Ten club players took part in the weekly Tuesday Arena on lichess.org on 26th January. Congratulations to John Zastapilo who came top, well done Keven Lamb 2nd, and Joseph Henbury 3rd. For full results see the lichess.org 26th January tournament details.
The 5-round Swiss rapid-play online tournament at lichess.org on Thursday 28th was also contested by ten players. Congratulations to Keith Gregory with an impressive 5 out of 5 wins, and well done Kev Byard 2nd and Graham Stuart 3rd. Kev and Graham both scored 3.5, and the system used a tie-break performance score to decide who was 2nd and who 3rd. For full results see Chandlers Ford 5 Round Swiss 28th January.
Forthcoming online tournaments
Details of the next two online tournaments for club members at lichess.org.
Tuesday Arena, 2nd February 2021, 8pm
This is our regular weekly rapid play online tournament in which players have ten minutes each per game in the one-hour tournament. 8pm start. It's already set up, click on the button below to go to the Tournament.
5-round Swiss, 4th February at 8pm
Our next 5-round online Swiss Tournament is on Thursday 4th February 2021. This starts at 8pm at lichess.org. Players have an initial 7 minutes each per game plus a 3-second increment per move (that is, about ten minutes each). Click on the button below to go to the Tournament.
Fourteenth Team Battle
Good luck to the Hampshire Junior Chess players in the Fourteenth Team Battle on lichess.org: see the tournament at 6pm Monday 1st February 2021 at 14th Inter-County Division 2 Team Battle.