The latest on the Lichess Ladder Tournament, plus the Juniors in 10-team online County Battle, plus results of last night's Arena Tournament (2nd February).
The Lichess Ladder
Ladder Tournament organiser Nobby George reports 2 results from last week:
Peter Przybycin 1- 0 Patrick Pavey
Nobby George 0 – 1 Sam Murphy
Sam retains top rung on the Lichess Ladder. See The Ladder Page for the full standings as of 31st January 2021.
The Lichess Ladder Rules summary.
All games to be played online at lichess.org. The Time control is 90 minutes per player. Players may challenge up to four places above their own step. If the challenger wins he will exchange places with the loser, for all other results then the positions remain the same. The Challenger has the white Pieces.
The Ladder will be updated every Sunday. See the Ladder Page for the most recent standings.
Hampshire Juniors 4th in 10-team County Team Battle
The Hampshire Junior Chess Association team competed in the 14th Inter-County online Team Battle on Monday, coming a respectable 4th out of ten teams.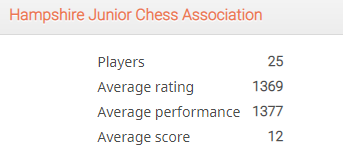 'Tuesday Arena' Tournament 2nd February
Ten of us played in the weekly 'Arena' on Tuesday 2nd February 2021. These regular events for club members are one hour rapid-play tournaments in which the players have ten minutes each per game.
Congratulations to Graham Stuart on winning the tournament, and well done John Zastapilo 2nd and Keven Lamb 3rd. For full results see the lichess tournament Chandlers Ford 2 February Arena.