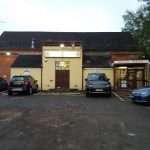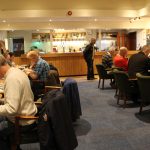 The Chandlers Ford Chess Club is a friendly chess club that meets each Tuesday evening from 7.30 pm at the Chandlers Ford Central Club, 2 Winchester Road, Chandlers Ford, Eastleigh, Hampshire SO53 2FZ.
We meet in the lounge bar – on the left as you head towards the main bar. The bar serves a range of drinks, from hot drinks to a selection of guest real ales as well as lagers: cheap beer prices.
We have chess sets, boards and clocks. Feel free to come along on a Tuesday for a friendly game.
If you use the venue's car park please be aware that you will need to enter your car registration in the screen near the entrance.
As well as friendly games we enter teams in the Southampton Chess League, and have 3 internal competitions within our club. Our players represent a broad range of abilities.
The Chandlers Ford Chess Club meets year-round.
Being a friendly bunch we occasionally meet up for social events several times a year, such as curry nights at a local restaurant.