This week, updates on various online tournaments and matches, plus the Hampshire Juniors in a huge online event.
Hampshire Juniors in huge online Team Battle Event
News from Chandler's Ford Junior Chess Club organiser Maha Chandar that the Hampshire Juniors took part in the Under 11 Association Zone Team Battle yesterday 20th March, scoring 62 points. The event was massive: an astonishing 304 players in 15 teams participated in the online event on lichess.org. 1,956 games were played in the 2 hour rapid-play tournament. The games had a time control of 10 minutes per player plus 5 seconds per move. The event ran for two hours, 14:00 – 16:00. The Barnet Under 11 Team won the event, with 428 points, whilst Hampshire were 15th.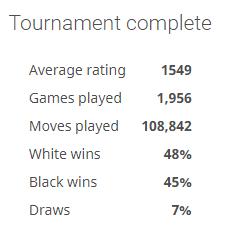 Results of regular club tournaments
Tuesday Arena: 16 of us participated in this week's Arena on 16th March, a great turnout. Congratulations to this week's winner John Zastpilo. Well done too Sam Murphy , who came second, and Ted Black ('MagnusPolgar' on lichess) who came 3rd.
Thursday 5-round Swiss: 9 of us played in the Chandler's Ford Swiss on 18th March. Congratulations to Kev Byard who won this week. Well done too Don Creasey ('carouselman' on lichess.org) 2nd, and David Culliford ('djc202' on lichess) 3rd.
Lichess Ladder Latest
Chandler's Ford Chess Club Lichess Ladder organiser Nobby George reports 3 results this week:
Michael Duffy 0 – Rob Strachan
Patrick Pavey 1 – Andrew Vagg 0
John Kooner 0 – Manoj Chandar 1
See the Ladder Page for the latest standings.
Book Prize Tournament
Book Prize Tournament organiser Peter Przybycin reports three Round 9 results this week:
Rose Saunders 1 – Suzan Dunleavy 0
Keven Lamb ½ – Steve Saunders ½
Steve had Keven on the ropes in this game, but let him off the hook by allowing a perpetual check situation to develop.
John Kooner 1- Geoffrey Parish 0
Geoff gave John a hard time in this game and was a clear piece ahead at one stage, but John dug in and fought back, managing to win a rook and ultimately the game.
All the best,
Peter
Second online match against Wimborne
Chandler's Ford Chess Club played the return match against Wimborne Chess Club on Friday 19th March, online on lichess.org. Wimborne won the match 5-2, our two points being from Sam Murphy and Mike Henbury. A match report will follow soon.