Sam was on top form this week: he won this week's Tuesday Arena tournament. He retains his lead at the top of the Ladder too. Results of the week's online chess tournaments on 12th and 14th January; the Ladder latest; and links to the next two online tournaments on 19th and 21st January.
Online rapid-play tournament results this week 12th, 14th January 2021
Our two regular weekly tournaments online at lichess.org: the Tuesday Arena on 12th January, and the 5-round Swiss on the 14th.
Results of Tuesday Arena 12th January 2021: Sam 100%
14 of us participated in this week's Arena Tournament on Tuesday 12th January 2021, online at lichess.org. Congratulations to Sam Murphy, this week's winner who came first by an extremely narrow margin, closely followed by David Culliford ('djc202') 2nd. Graham Stuart ('WillHeSac') came 3rd. Sam and David both had 12 points, but Sam had a higher tournament performance rating and had a 100% win ratio. David did squeeze in an impressive nine games during the hour though! Graham also did well to get 7 games in!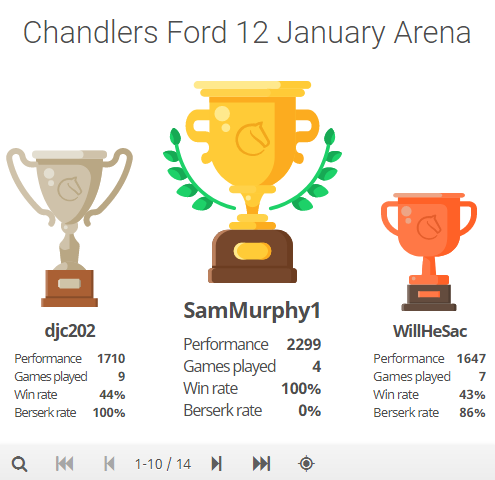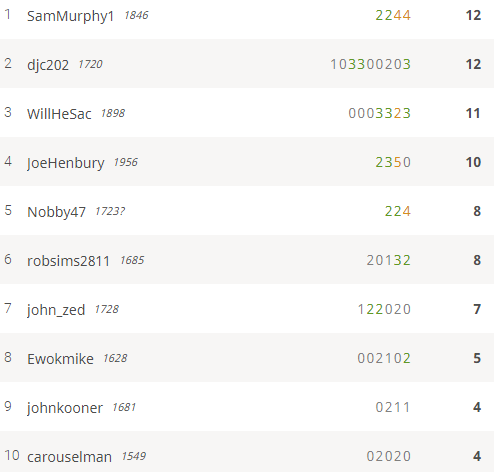 5-round Swiss results 14th January
11 of us played in Thursday's 5-round Swiss. A good week for 2 of our club members who now live overseas. Congratulations to New Zealand-based Kev Byard on winning with a formidable five out of five wins. Well done too Keith Gregory ('KeithDFG') 2nd, and Belgium-based John Zastapilo 3rd.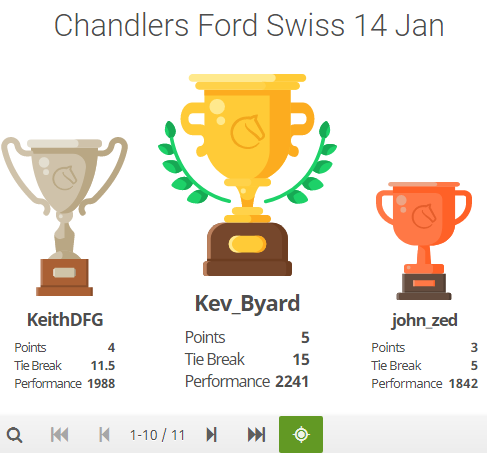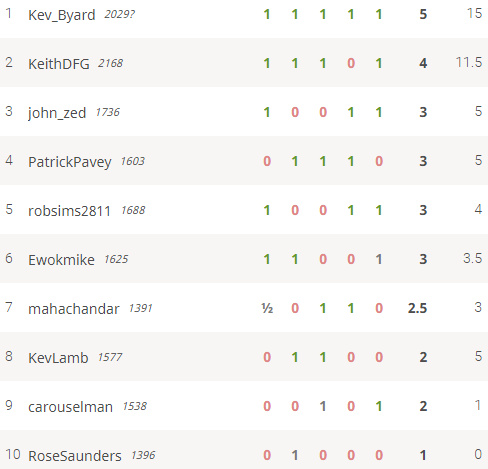 Forthcoming online tournaments
Details of the next two online tournaments for club members at lichess.org.
Tuesday Arena, 19th January 2021, 8pm
This is our regular weekly rapid play online tournament in which players have ten minutes each per game in the one-hour tournament. 8pm start. It's already set up, click on the button below to go to the Tournament.
5-round Swiss, 21st January 2021 at 8pm
Our next 5-round online Swiss Tournament is on Thursday 21st January 2021. This starts at 8pm at lichess.org. Players have an initial 7 minutes each per game plus a 3-second increment per move (that is, about ten minutes each). Click on the button below to go to the Tournament.
The Lichess Ladder Latest: 10th January 2021: Sam still in the lead
Tournament organiser Nobby George reports on results of the week's games: see below, and the updated Ladder is on our Ladder Tournament Page.
Joseph Henbury

:  1  Patrick Pavey:  0
Rob Strachan:  1  Don Creasey:  0
Manoj Chandar:  1  Maha Chandar:  0
John Kooner:  1  Nobby George:  0
Peter Przybycin 1  Steve Dunleavy  0.