Happy New Year everyone. Results from Tuesday's Arena tournament online at lichess.org, plus a look back at a highlight from 2020 (there weren't many…). And looking ahead, to next week's online tournaments.
Results of tournament Tuesday 29th December 2020
10 of us participated in this week's Arena Tournament on Tuesday 29th December, online at lichess.org. Congratulations to Graham Stuart ('WillHeSac'), who came first with an awesome score of 20. Graham made good use of the Arena format's 'Berserk' function (in which you trade in half your time in a game for the chance of a bonus point –IF you win). Well done too Mike Henbury ('Ewokmike') 2nd, and John Kooner 3rd.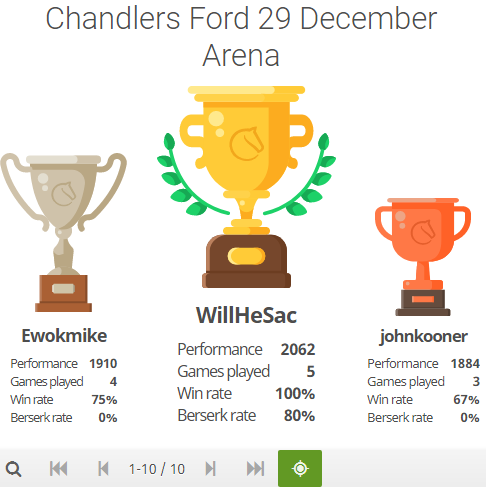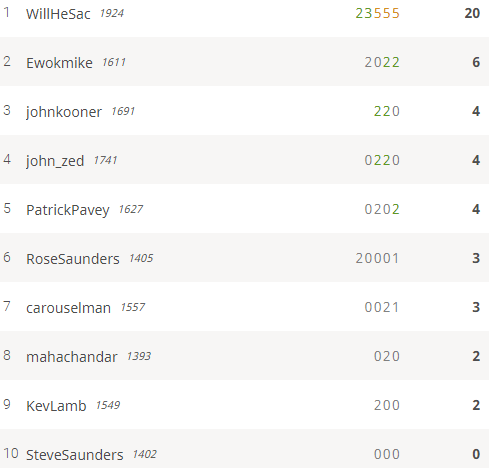 Forthcoming online tournaments
Details of the new year's first two online tournaments at lichess.org.
Tuesday Arena, 5th January 2021, 8pm
This is our regular weekly rapid play online tournament in which players have ten minutes each per game in the one-hour tournament. 8pm start. It's already set up, click on the button below to go to the Tournament.
5-round Swiss, 7th January 2021 at 8pm
Our next 5-round online Swiss Tournament is on Thursday 7th January 2021. This starts at 8pm at lichess.org. Players have an initial 7 minutes each per game plus a 3-second increment per move (that is, about ten minutes each). Click on the button below to go to the Tournament.
2020 Highlights
What was the best bit of 2020? It seems like a strange question given that the year is generally viewed as not having been a good one… Selecting a highlight from this year shouldn't be difficult though, the bar being set quite low… I've actually selected two highlights – and one of them is since the pandemic restrictions.
The 'Super-Match': 16 Chandler's Ford players in one match
There was one event that was a real chess highlight though: when Chandler's Ford Chess Club's C and D teams played each other in their Southampton Chess League Division 5 match in January. Each team was double-size, so it was an 8 v 8 players match. A great 16-players involvement from the same club in an event on one night. Boards 1-4 counted towards the Match result, whilst the remaining boards were still graded for English Chess Federation grading purposes. See Southampton Chess League match result screen for individual results – and our own match article D Team Beats C Team in Super-match. The super-match would be a highlight in any year, a great chess club night. And I say that as the captain of the losing side – it was such an enjoyable event.
Incidentally, the COVID-19 crisis came along late in the chess League 2019-20 season, so the C team only missed out playing one match, but the D team's last 2 fixtures were cancelled due to the pandemic. See the Southampton Chess League Division 5 table. Obviously the 2020-21 season hasn't started – and will probably simply not happen now.
The A and B teams also did very well in the Southampton League: the A team managed to play 7 games in Division 3 before the pandemic ended the season, and came 2nd. The B team did even better in Division 4: playing 8 games, they came top of Division 4!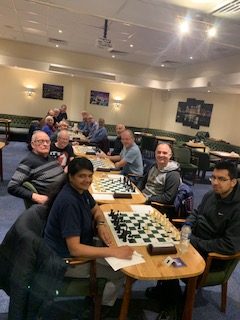 Chandler's Ford players represent England
Since the COVID crisis began, over-the-board chess came to a halt – but now games are played remotely online, at such websites as lichess.org and chess.com. The English Chess Federation has an official lichess Women's team – England Women and Chandler's Ford's own Rose Saunders and Maha Chandar have played in the team! This is a brief mention here, but there will be a fuller post on this soon.
Those were just 2 of the year's highlights. A mention also that Dave Holmes got to the Final of the Devon Chess Grand Prix, for example.
Kev Lamb
Happy New Year!