85 players entered the Castle Chess 18th Fareham Congress 18-20th March 2022, a record for Castle Chess. And 5 of the entries were Chandler's Ford Chess Club players. Here are photos and some results from Fareham Congress.
Photos of the tournament
Fareham Congress
The Castle Chess 18th Fareham Congress was held at the Lysses House Hotel in Fareham, 18th-20th March 2022. The format was a 6-round Swiss, Round 1 on the Friday evening, the next three rounds on the Saturday, and the remaining two rounds on Sunday. The games had a rate of play of 75 minutes per player per game, plus 30 seconds per move. There were 3 Sections, and each section had a sub category by ECF Grading.
The Open, including the Premier (Under 2001 grade). Three Chandler's Ford Chess Club players were entered in the Open: Keith Gregory, Graham Stuart, and Iwan Cave, who was 4th in the Premier category.
The Major (Under 1901 grade), including the Intermediate (U1751).
The Minor (under 1601), including the Challengers (U1451). Two players from our club entered the Minor, Keven Lamb, and Peter Eales, who won a prize in the Challengers. Great news for Peter as this was his first Tournament for 40 years.
Castle Chess were able to substantially increase the Prize fund due to the numbers of players that entered: 85 players, a record for Castle Chess.
For full results of all players, see the Castle Chess results page for the event via the button below:
Father vs son
In the Major, two closely-matched players who ended up with 4 points each inevitably had to play against each other: Richard Ursell and his son Adam Ursell. The two Highcliffe players drew in their Round 5 game.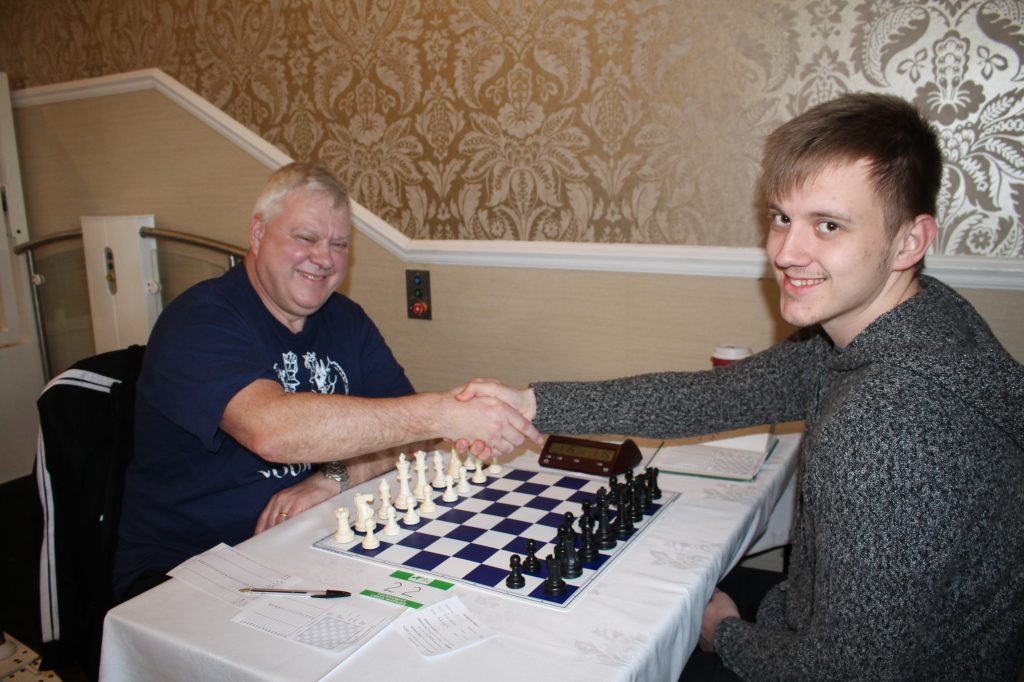 A good cause
The organisers support a number of children in Zambia, and are pleased to announce that player donations during the weekend raised £186 to help with their school fees.
Links