Chandler's Ford's C and D Teams are both in Southampton Chess League Division 5, and have already met this season. Tuesday 14th January was the 'return' fixture, C team hosting (although both teams in their own home venue, the home or away distinction decides which players play with which colour pieces: the 'Away' side plays white on odd-numbered boards).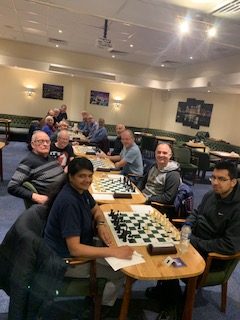 Division 5 fixtures are played across 4 boards, but the League permits an extra graded game for grading purposes. We stretched that facility to have not one but four graded pairings in addition to the League match boards 1-4. A big event for us: we've previously had two matches at club before against two visiting clubs, with up to ten of our players involved at the same time – but this was between two of our own teams, both at double-numbers: 16 players of our club playing at the same time! A super-match played over 8 boards.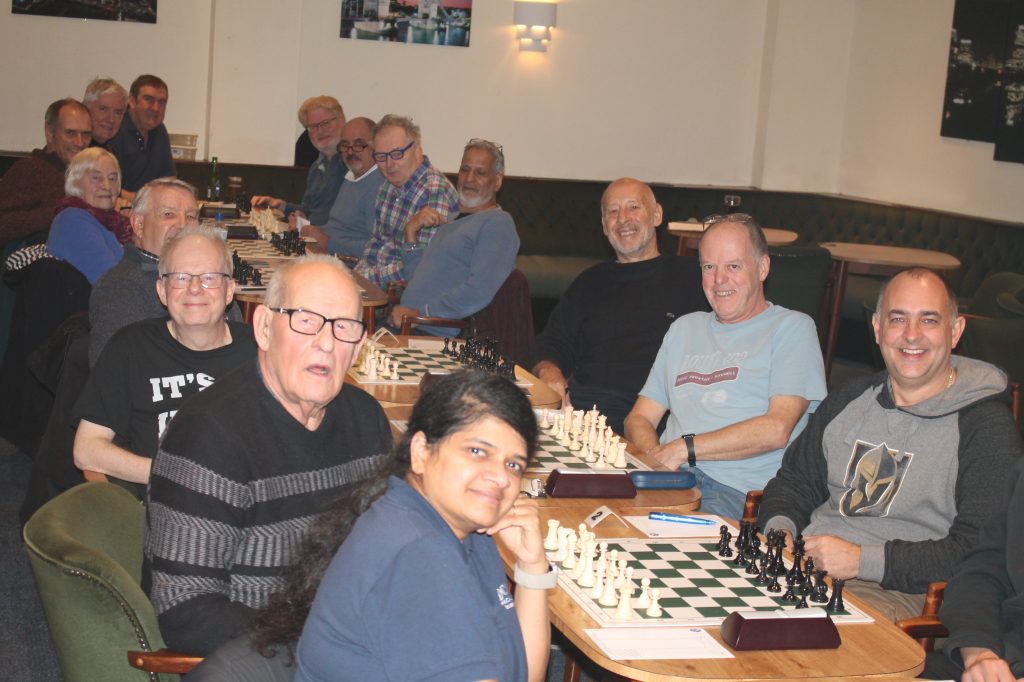 So how did the match play out? Well, a conclusive win for the D team, with 6 points to 2, with the League Match boards 1-4 a romping 0-4 win for the D team. This result propels the D team up to second place in Division 5, a great start to their second half of the 2019-2020 season. There were some surprises with a couple of out-graded players getting draws against their higher-graded opponents: Ian Parker against Sam Murphy and David Culliford against Graham Stuart. See full individual results below, and the match result card submitted to the SCL with match comments and results of the extra grading pairings.
Results Card 2019-20, Division 5 Super-match: CFC v CFD plus multiple grading pairings
Date: Tuesday 14th January 2020


Chandlers Ford C
ECF


CFD
ECF


1
Maha Chandar

96
0
James Daas
95
1
2
Don Creasey

85
0
Rob Bird
103
1
3
Keven Lamb

82

0
Rob Sims
95
1
4
Steve Saunders

64
0
Nobby George
88
1

League Match result


0
League Match result
4
5
(grading purposes only) Rose Saunders


47

0
(grading purposes only) John Kooner

84

1
6
(grading purposes only) Dick Meredith


107

1
(grading purposes only) Steve Dunleavy

52

0
7

(grading purposes only)
Sam Murphy



105

0.5
(grading purposes only) Ian Parker


63

0.5
8
(grading purposes only) Graham Stuart


146

0.5
(grading purposes only) David Culliford

124

0.5


Total of the 8 boards


2
Total of the 8 boards


6
You may be wondering why some strong players weren't in the top 4, match-board half of the line-up. This was to avoid eligibility issues now or later in the season, as the players would normally play for our A or B teams in Divisions 3 or 4.
Although I write as the captain of the losing team, I must say the event was a highlight of the season for me, seeing so many players of the club all participating in such a good atmosphere and showing flexibility to make the 'super-match' possible. A really enjoyable evening. Kev Lamb.