This week: chess news round-up by Malcolm Clarke who writes for the Hampshire Chronicle newspaper; online weekly tournaments; the Ladder latest. A great week for Manoj: he won Tuesday's Tournament, he's won a Ladder game, and it was his 18th birthday! What a great week!
Chess News – Malcolm Clarke
Chandlers Ford chess club played an online match with Wimborne chess club and drew 3.5-3.5 with their winners being Graham Stuart, who was instrumental in setting up the match, Sam Murphy and Mike Henbury being their winners and Rob Sims drawing his game. The two teams were evenly matched in terms of grading, so the result was about right. Wimborne have 36 players listed with grades on the English Chess grading database as opposed to 29 for Chandlers Ford so from that point of view are the slightly bigger of the two clubs.
Chandlers Ford's next match is against Ringwood chess club who joined the Southampton chess league during the 1990's and have come a long way since the days when they just operated with just one team competing in the lowest division of the Southampton chess league, and in their first season their A team played in the Southampton Chess League which was 2001/02 they finished bottom of the table and were whitewashed by the Eastleigh (BR) team who had just been relegated from Division 1. Nowadays they operate with three teams in the Southampton Chess League and in the last completed season 2018/19 their teams won divisions 1, 3 and 5 and the division 5 cup and were losing finalists in the Robertson Cup. Chandlers Ford teams have struggled to get results against Ringwood in over the board matches in recent seasons, but online matches where the teams might be of a more equal grading strength could be a different matter.
Results of club tournaments: Manoj 100%
Tuesday Arena: 18 of us participated in this week's Arena on 16th February – our best 'attendance' yet. The winner of Tuesday's Arena tournament (16th February) was Manoj Chandar with an impressive win rate of 100%!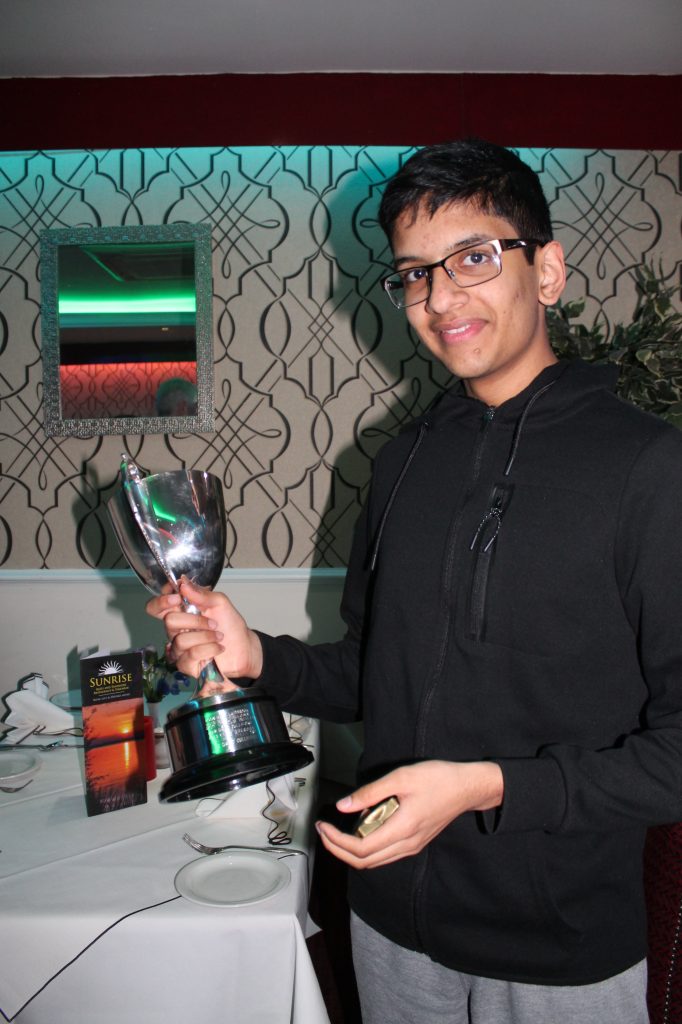 Thursday's 5-Round Swiss on the 18th February was won by New Zealand-based Kev Byard, with 4 points out of a possible 5. Keith Gregory also had 4 wins, but came second with the online system's tie-break function. Joe Henbury was 3rd.
Chandler's Ford Lichess Ladder: new player
The club's Lichess Ladder organiser Nobby George reports that we have a new player in the Ladder, Michael Duffy – welcome Michael! But one player (Andy Mills) has dropped out. There were 4 games this week:
Andrew Vagg: 0 Maha Chandar: 1
Steve Dunleavy: 0 Rob Strachan: 1
Steve Saunders: 0 Rob Sims: 1
John Kooner: 0 Manoj Chandar: 1
See the Ladder Page for the most recent standings.
The Lichess Ladder Rules summary.
All games to be played online at lichess.org. The Time control is 90 minutes per player. Players may challenge up to four places above their own step. If the challenger wins he will exchange places with the loser, for all other results then the positions remain the same. The Challenger has the white Pieces.
The Lichess Ladder will be updated every Sunday.
Forthcoming online tournaments
Details of the next two online tournaments for club members at lichess.org.
On Tuesday 23rd February our weekly Arena Tournament for club members, and on Thursday 25th our regular 5-Round Swiss. Both tournaments use rapid-play time limits, one without increments, one with.