Congratulations to the Hampshire Junior Chess team on winning a 10-team online Team Battle! Convincingly: they finished well ahead of their nearest rivals.
Hampshire Juniors Win Team Battle
Hampshire Junior Chess Association team won a big Juniors tournament on Monday 5th July 2021.
Ten teams from across the country registered for the online event on lichess.org, and the Hampshire Junior Chess Association is one of them. 68 players participated.
19th Inter-County Division 2 Team Battle
The event was online on lichess.org, and the format a Team Battle. Basically, the individuals' scores count towards their respective teams in an online tournament. The time control is in the blitz category: quick games of 5+3 (5minutes per player per game, plus a 3-second increment for each move made). With a tournament length of an hour and a half, quite an intense event requiring a lot of concentration and quick decisions in every game.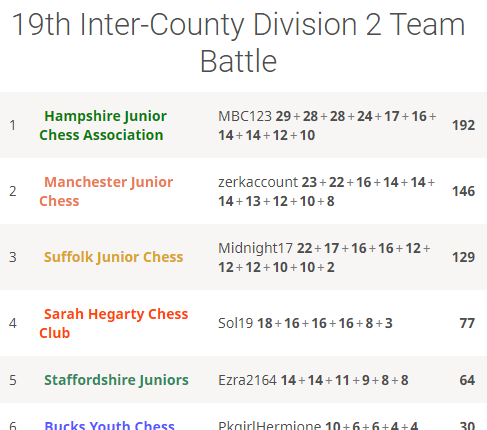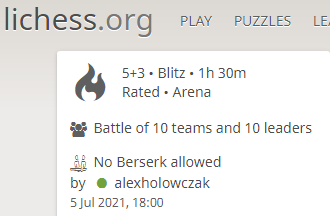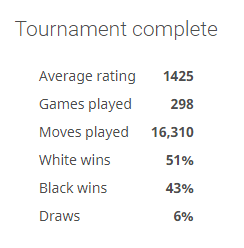 Hampshire Juniors in online events
The Hampshire Junior Chess Association team have had a series of events on lichess.org. These were various Team Battles, including the regular Saturday Afternoon Event Team Battles, plus 3-County Team Battles (for example, Hampshire v Dorset v Berkshire).
Their next event is a Saturday Afternoon Event Team Battle, on Saturday 17th July 2021. Hampshire is currently one of 4 Counties signed up for the event, the others being Devon, Berkshire, and Dorset. The time control for the 2-hour event is 10+5 (ten minutes per player per game, plus 5 seconds per move).
Good luck Hampshire Juniors!