The 2022 League Season starts – with a win for Chandler's Ford. Match captain Rob Sims reports on Chandler's Ford Chess Club's first fixture of the new 2022 short season. Photo by Hanna Dunleavy.
MATCH REPORT
Tuesday 18th January 2022 saw the return of over the board Southampton Chess League games when the first match of this 3 month season took place at Chandler's Ford Central Club as the Chandler's Ford B team took on Andover B.  It felt really good to get back to league chess again following a gap of nearly 2 years due to the Covid19 pandemic. The Chandler's Ford team consisted of Sam Murphy, Dick Meredith, Keven Lamb and Nobby George on boards 1-4 respectively.  Starting a little after 7.30 to allow a pre match photo of the 8 players, the club room returned to a hushed silence level last heard in March 2020!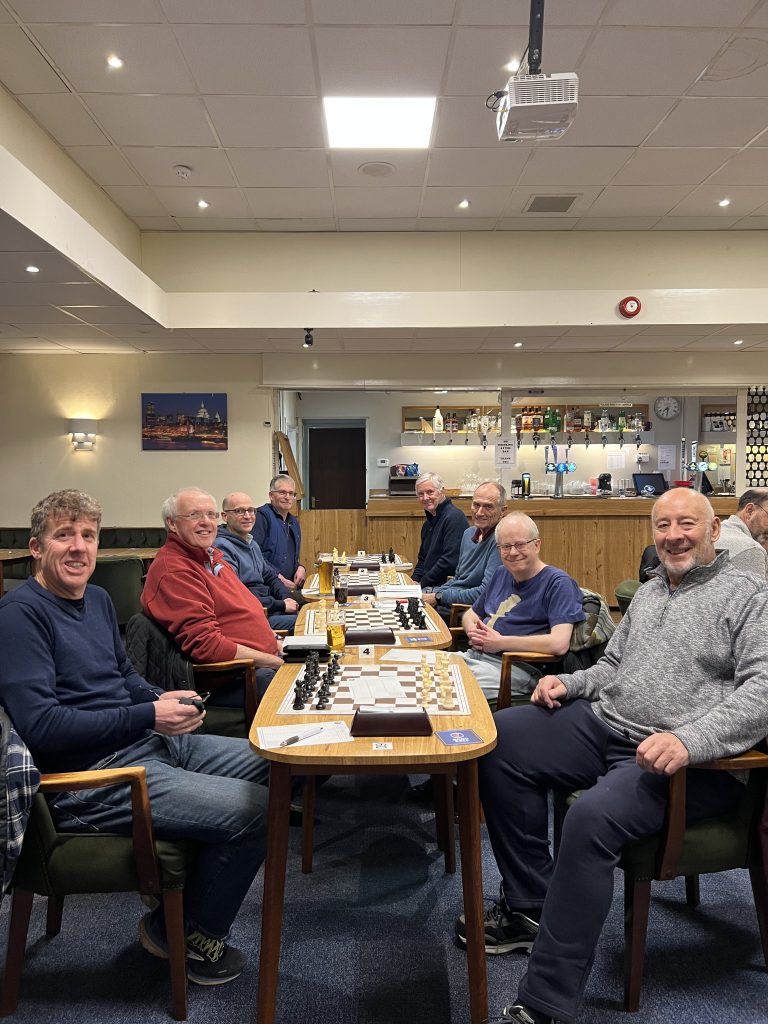 Nobby was the first to finish with a win against Andrew Dinkele, followed by Keven who astounded his opponent Graham Payne with a sudden win against the run of play. This put Chandlers Ford 2-0 up with the two top boards still to finish. Tension mounted when Sam resigned against his ungraded but strong opponent Steve Jones, so with the score at 2-1 in our favour it came down to a close tussle between Dick Meredith for Chandler's Ford and Gavin Stonham for Andover. Dick had two bishops against knight and bishop with 5 pawns a piece. This very close match played on for at least an hour after the other 3 games had been completed and it did not finish until 10.25pm when a draw was offered and accepted, giving Chandler's Ford a 2.5-1.5  win propelling them to the top of Division 4 after one match.
Match individual results
| | | |
| --- | --- | --- |
| Chandler's Ford B | | Andover B |
| Sam Murphy | 0-1 | Steven Jones |
| Dick Meredith | 0.5-0.5 | Gavin Stonham |
| Keven Lamb | 1-0 | Graham Payne |
| Nobby George | 1-0 | Andrew Dinkele |
| –score– | 2.5-1.5 | |
Chandler's Ford B vs Andover B, Tuesday 18th January 2022
The Andover B match captain is Kevin Steele. Kevin kindly submitted the results to the Southampton Chess League Website. See his Scorecard and kind comments on the SCL Website. Andover B are a friendly team and it was a pleasure to host them.
It was a great evening, with Southampton Chess League match play returning for our club, and the chess club was very well attended too, with several new players coming along.
The Chandler's Ford B team's next match is on Thursday 3rd February, away against Southampton University B.
Links