The New Southampton Chess League Season starts this month! Chandler's Ford B have their first match on Tuesday 18th January 2022. In this article we look back at the Southampton Chess League EGM which discussed the format for the forthcoming semi-season – and look forward as the League Fixtures are announced.
League EGM
The Southampton Chess League met for its Extraordinary General Meeting at our Club's venue in Chandler's Ford on Wednesday 13th October 2021.
Fixtures Secretary Malcolm Clarke Awarded for long service by League and Chess Club
Chandler's Ford's Malcolm Clarke received recognition for his long service to the Southampton Chess League as its Fixtures Secretary and as Club Secretary of Chandler's Ford (previously Eastleigh). He has served 31 years as a principal member of the Southampton League. Malcolm Clarke was awarded a special Trophy and engraved Tankard from the League and Chandler's Ford Chess Club. The video and pictures below capture Malcolm's delight at the Awards.
Click on any of the photos in the gallery below for full picture, and scroll from there.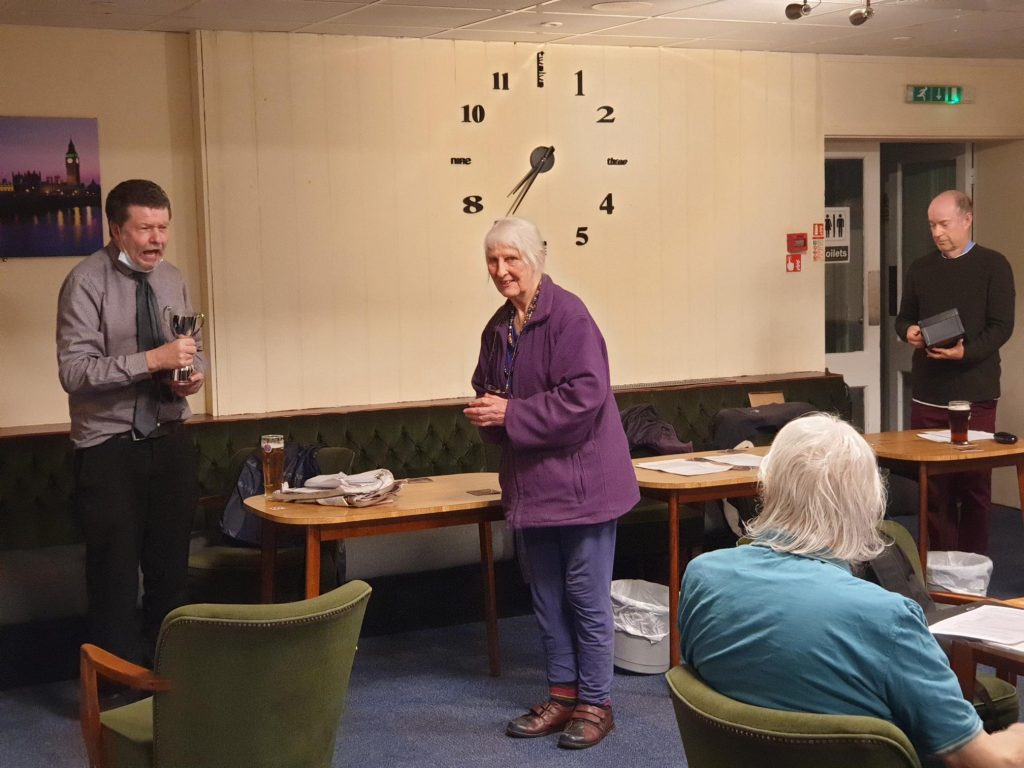 New Season 2021-22
Following the EGM the League consulted with the chess clubs as to what form the 2021-22 season would take, given the effects of Covid. Three format options were proposed:
Option 1 – League format with 3 divisions of 6 teams, 5 matches playing each team once only
Option 2 – League format with 5 divisions of 4 teams, 6 matches playing each team home and away
Option 3 – Team Swiss format with 5 or 6 rounds, each match to be played within a 3-week period. Either all teams together in one Swiss or, to avoid mismatches, there could be a Swiss A and a Swiss B
In all cases, teams have 4 players only as agreed at the EGM.
The consultation process has now crystallised into the League format of Option 2. The League has a 5-Division structure.
Club Fixtures 2022
We now have the dates for the Chandler's Ford fixtures. See the fixture table below.
Southampton Chess League Fixtures for Chandler's Ford Chess Club
| | | | | |
| --- | --- | --- | --- | --- |
| Day | Date | Home Team | Away Team | Division |
| Tuesday | 18 January 2022 | Chandlers Ford B | Andover B | 4 |
| Tuesday | 25 January 2022 | Chandlers Ford A | Salisbury B | 3 |
| Tuesday | 01 February 2022 | Chandlers Ford C | Winchester C | 5 |
| Thursday | 03 February 2022 | University B | Chandlers Ford B | 4 |
| Wednesday | 09 February 2022 | Basingstoke C | Chandlers Ford C | 5 |
| Wednesday | 16 February 2022 | Basingstoke A | Chandlers Ford A | 3 |
| Tuesday | 22 February 2022 | Chandlers Ford A | Winchester B | 3 |
| Tuesday | 01 March 2022 | Chandlers Ford C | Basingstoke C | 5 |
| Tuesday | 08 March 2022 | Chandlers Ford A | Basingstoke A | 3 |
| Wednesday | 09 March 2022 | Winchester C | Chandlers Ford C | 5 |
| Tuesday | 22 March 2022 | Chandlers Ford B | Fareham B | 4 |
| Wednesday | 23 March 2022 | Winchester B | Chandlers Ford A | 3 |
| Thursday | 24 March 2022 | Salisbury C | Chandlers Ford C | 5 |
| Thursday | 07 April 2022 | Salisbury B | Chandlers Ford A | 3 |
| Wednesday | 20 April 2022 | Basingstoke B | Chandlers Ford B | 4 |
| Tuesday | 26 April 2022 | Chandlers Ford C | Salisbury C | 5 |
SCL fixtures for Chandler's Ford
Chandler's Ford Team Captains
Chandler's Ford A Team: Malcolm Clarke
Chandler's Ford B Team: Rob Sims
Chandler's Ford C Team: Steve Dunleavy