The Chandlers Ford Chess Club Knock-out starts in April with a Preliminary Round to determine which 16 club players begin Round 1 of the Knock-Out proper. The tournament aims to conclude in August. It is one of three internal club tournaments at the club.
The field of players is halved each round: 16, to 8, to 4, until the 2 remaining players play a final to determine the winner.
The knock-out is organised by Steve Dunleavy.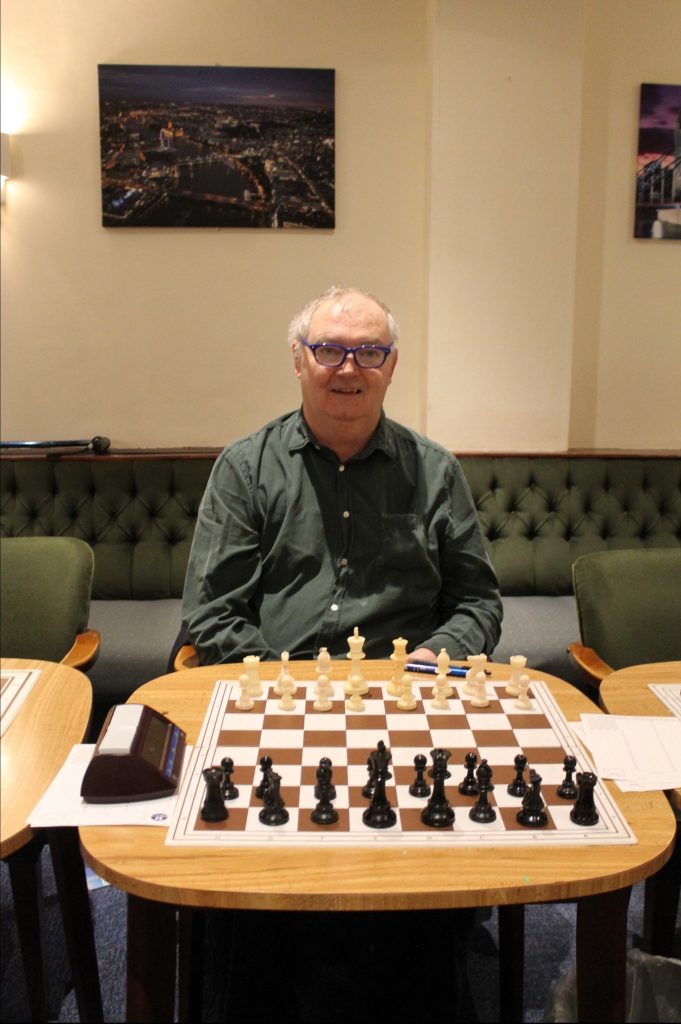 The 2019 Knock-Out
The 2019 winner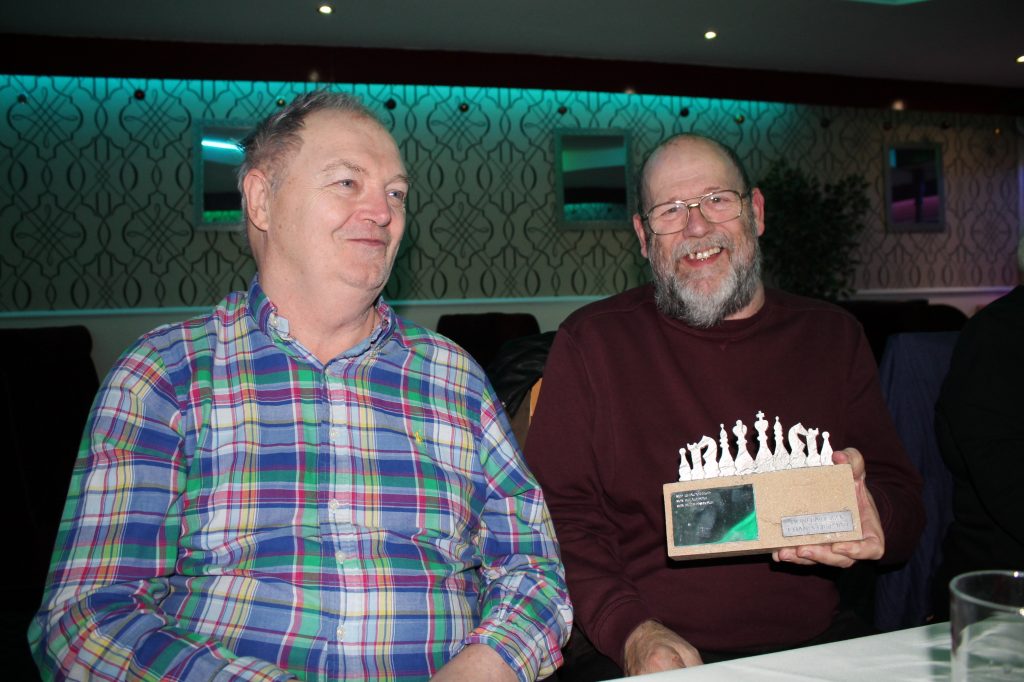 The 2019 Winner of the Knock-out tournament was Peter Przybycin. He was presented with the Knock-out Trophy at the Christmas Curry on 12th December.
Preliminary pairings
The Preliminary matches brought the number of players for Round 1 down to 16 players. These were the Pairings of the preliminaries:
THE DRAW FOR THE ABOVE IS AS FOLLOWS(THE FIRST NAMED PERSON TO PLAY WITH WHITE):
SAM M VERSUS PETE P
IAN P V ROB STRACHAN
DICK M V STEVE S
Round 1
Round 1 began on 5th May, and saw 8 of the 16 eliminated. These were the Round 1 pairings:
THE DRAW FOR THE ABOVE IS AS FOLLOWS.THE PERSON NAMED FIRST PLAYS WITH WHITE)
JAMES –L V PETER-P
MAHA-C V MANSA C
KEV-L V JOHN-K
ROB SIMS V NOBBY-G
MANOJ-C V ROSE-S
ROB STRACHAN V PHIL-O
DON C V STEVE-D
DICK M V ROB BIRD
Round 2
Round 2 started on 9th June with these pairings:
THE DRAW IS AS FOLLOWS(WITH THE PLAYER NAMED FIRST PLAYING WITH WHITE):
1)MANOJ C V PHIL O
2)MANSA C V PETE P
3)ROB SIMS V ROB BIRD
4) DON C V JOHN K
Round 2 is due to end on 2nd July, although if the last game(s) are drawn that might move things back a week if there are re-plays.
Tournament rules for the Knock-Out
Tournament organiser Steve Dunleavy sets out the Knock-out tournament rules below:
ALL GAMES TO BE COMPLETED BY THE ROUND DEADLINE AND ALL RESULTS TO BE MAILED TO ME ASAP AFTER THE RESULT HAS BEEN DETERMINED
CLOCKS TO BE SET AT 90 MINUTES AND ALL MOVES RECORDED
IN THE EVENT OF A DRAW THE OPTIONS ARE EITHER A) PLAY A RAPID PLAY THE SAME NIGHT( DURATION TO BE AGREED BY BOTH PLAYERS)OR B)ARRANGE ANOTHER 90 MINUTE GAME PROVIDING BOTH PLAYERS ARE 100% COMMITTED TO COMPLETEING THE REPLAYED GAME BY THE DEADLINE(TO FACILITATE THE SMOOTH RUNNING OF SUBSEQUENT ROUNDS)
I WOULD APPRECIATE IT IF ALL DATES THAT GAMES ARE ARRANGED TO BE PLAYED ARE EMAILED TO ME ONCE AGREED SO THAT I CAN MONITER THE PROGRESS OF THE COMPETITION
GAMES CAN BE PLAYED AT THE CLUB OR ANY OTHER VENUE AGREED BY BOTH PLAYERS
PLEASE EMAIL ME THE RESULTS AS SOON AS THE GAMES ARE COMPLETED
ENJOY
ALL RESULTS WILL BE SUBMITTED FOR GRADING PURPOSES