2019 Summer Tournament
The 2019 Summer Tournament began in April and is now in its third Round. It is organised and run by our club secretary Malcolm Clarke, and is a 5-round Swiss in its format. It is one of three of the Club's Tournaments. When the pairings for each round are announced, the first-named player has the white pieces. The odd number of players means byes are inevitable, but no player will receive more than one bye. The winner will have their name engraved on the Tournament's trophy, the Kooner Cup.
Round 4 Pairings
Malcolm Clarke: "With only one game to be played in this year's summer tournament I can make most of the round 4 draw:
Definite: Peter (2.5) v Phil (3), James (2.5) v David (2.5), Keven (2) v Dick (2),, Rob Sims (2) v Sam (2), Steve S (1.5) v Rob Bird (2), Maha (1) v Don (1), Ian bye

The rest of the draw depends on the result of Steve D v Rose, but if Steve D wins or draws Mansa (1) v Rob Strachan (1), John (1) v Steve D (1 or 0.5), , Rose ((0 or 0.5)  v Nobby  (0.5)

– and if Rose wins Mansa (1) v John (1), Rose (1) v Rob Strachan (1), Nobby (0.5) v Steve D (0)".
Round 3 Pairings:
| | |
| --- | --- |
| Phil Overton | Rob Sims |
| David Culliford | Peter Przybycin |
| Don Creasey | James Lesniak |
| John Kooner | Rob Bird |
| Dick Meredith | Maha Chandar |
| Rob Strachan | Keven Lamb |
| Sam Murphy | Mansa Chandar |
| Steve Saunders | Ian Parker |
| Steve Dunleavy | Rose Saunders |
| Nobby George | bye |
Previous rounds
Round 1: Phil v John, Nobby v Peter, David v Mansa, Don v Rob Sims, Dick v Ian, Rob Strachan v Maha, Sam v Steve S, Steve D v Keven, Rob Bird v Rose. First named player playing white.
Round 2: Keven (1) v Phil (1), Rob Sims (1) v Rob Strachan (1), Rob Bird (1) v David (1). Peter (1) v Dick (1), James (B) v Sam (1), Ian (0) v Don (0). Mansa (0) v Nobby (0), Maha (0) v Steve D (0), Rose (0) v John (0) Bye Steve Saunders. First named player is white and scores at end of round 1 in brackets. B means player had bye, but we need to decide whether to score byes as a full point or a half point. However no player will receive more than one bye in the competition.
The Summer Tournament: general information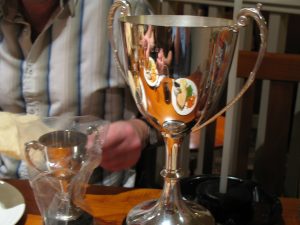 The Kooner Cup and replica 2008
The Summer Tournament has been played each Summer for a number of years – since we used to meet at our former venue at Eastleigh's Railway Institute. The games are all ECF-graded games. The Kooner Cup is presented at a sociable get-together by John Kooner who kindly provided the original trophy and the replicas.
The 2018 Summer Tournament was won jointly by Manoj Chandar and Sam Murphy.