The C team hosted Basingstoke C in the League last week. Both teams at double-strength for numbers of players – an 8-board super-match!
The fixture was in the Southampton Chess League's Division 5, a home fixture for our C team, on 1st March 2022.
Extra Games
Chandler's Ford C Team captain Steve Dunleavy arranged with his Basingstoke counterpart David Graham to have additional players participate, continuing a feature of the League's Divisions 4 and 5 before the pandemic, in which teams could field extra players for grading purposes in the English Chess Federation.
The extra games gave both teams the opportunity to give as many players as possible graded games in match conditions – and against players from a club other than their own.
The Basingstoke C team had several junior players, and their parents brought them and were there to support them. Not that the youngsters needed much support, being very good players.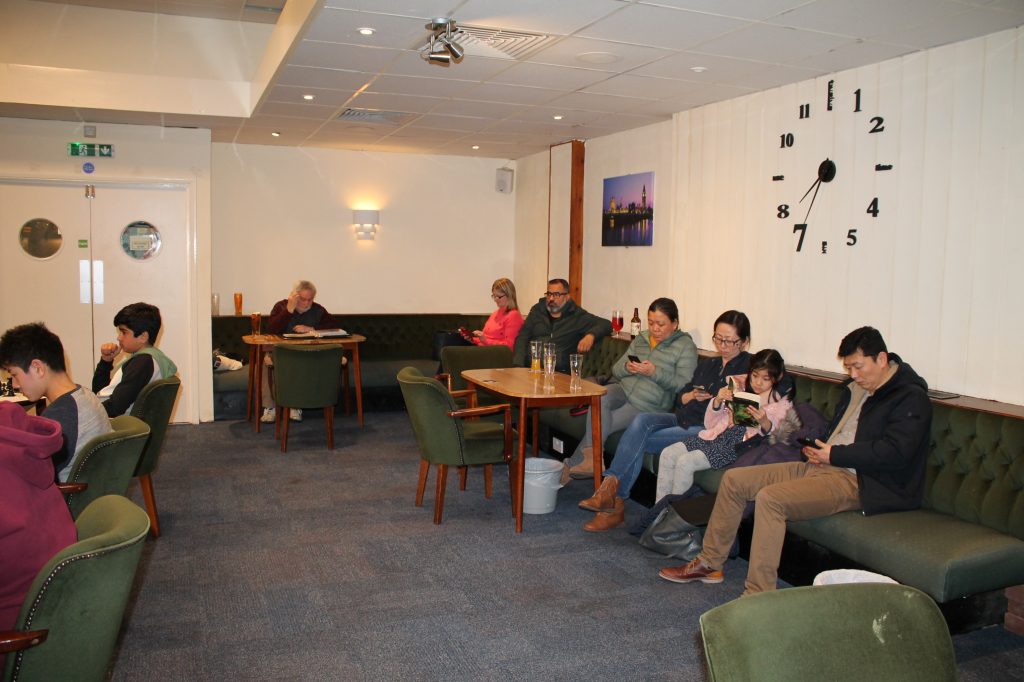 It was great to see such a big attendance at the club: the 8 players from each team, plus the visitors' families, plus more Chandler's Ford Chess club players playing their various club tournament games. The double-sized match was the largest such event since before the pandemic, when Chandler's Ford C and D teams played an 8-board match in January 2020.
Match result 2-2
The match was well-contested and ended with a 2-2 draw – for the match boards 1-4. The extra games played for grading and match experience saw the Basingstoke visitors win all the remaining games on boards 5-8.
Everyone seemed to enjoy the evening. See below for details of the individual results.
| | | | |
| --- | --- | --- | --- |
| Board | Home Team C. Ford C | Result | Away Team Basingstoke C |
| 1 | Keven Lamb | 0-1 | Liam Durangparang |
| 2 | John Kooner | 0-1 | Harry Smith |
| 3 | Peter Eales | 1-0 | Edward Yang |
| 4 | Nobby George | 1-0 | Ojas Dhall |
| | | 2-2 | |
Chandler's Ford C v Basingstoke C, 1st March 2022
Extra boards for grading and match experience
| | | | |
| --- | --- | --- | --- |
| Board | Home Team C. Ford C | Result | Away Team Basingstoke C |
| 5 | Steve Saunders | 0-1 | Shams Dilly |
| 6 | Rose Saunders | 0-1 | Adam Matthews |
| 7 | Lee Mundy | 0-1 | Saksham Rana |
| 8 | John Pellegrini | 0-1 | David Graham |
Extra, graded games, Chandler's Ford C v Basingstoke C, 1st March 2022
Links
SCL Division 5 match result report card