An over-the-board County Chess match – and Chandler's Ford Chess Club Players formed half the team! David Culliford reports.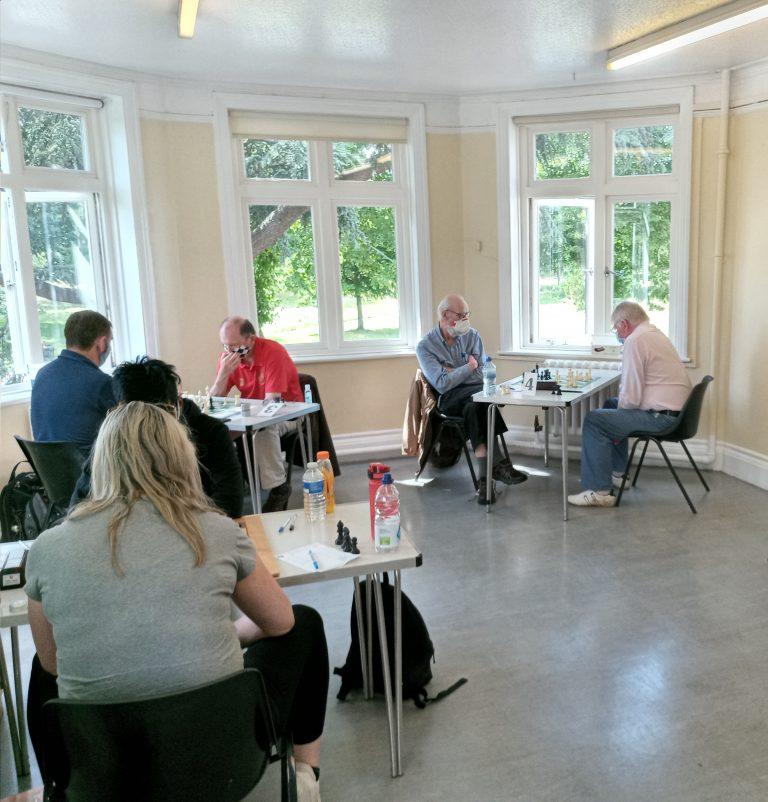 Return to Over The Board County matches
After a near eighteen-month hiatus as a result of the COVID-19 pandemic, over-the-board (OTB) county chess finally made its return in England. Just three county chess associations opted to participate in a pre-season county competition which was in effect 'testing the waters' prior to a return to the full annual county championship cycle later in the autumn.
One of these three English counties was Hampshire, electing to enter the 'Minor' competition which had the constraint of an average rating per team of 1600, using the Elo system only recently adopted by the English Chess Federation (ECF).
Chandler's Ford provide half of County team
On Saturday 14th August, Hampshire travelled to Wanstead in Essex to play the first of just three matches in this competition. Chandler's Ford Chess Club provided no less than four of the eight boards in the team line-up. David Culliford, Sam Murphy, Manoj Chandar and Maha Chandar volunteered to make the long journey to face Essex.
Shortly after driving away from our club's home venue, the CF Central Club and Institute, we received news that our top board (Daniel Shek) had tested positive for coronavirus that same morning. When we arrived at Wanstead, the Essex captain generously agreed to the default being taken on the top board on which Daniel would have played, rather than insisting on us defaulting the bottom board.
Excellent venue
We found Wanstead House to be an excellent venue, and fully compliant with all the precautions stipulated in the ECF's carefully thought-out policy on OTB chess post-pandemic. The weather was especially kind to us, being neither too hot nor too cold and with a gentle breeze keeping the playing room well aired throughout the four-hour playing session. The rate of play was G105/15, which means 1 hour 45 minutes fixed time plus a 15-second increment with every move made.
The playing room benefitted from a live display screen hooked up to the League Management System (LMS) website which the ECF use for registering results. This meant that the home captain, Peter Nickals, could enter live results in real time, with the full match result being posted at a quarter past five when the final game finished.
The match: Essex vs Hampshire
The result was a 7.5 – 0.5 loss for Hampshire, with Alan Willis registering our only result with a draw on board 4. While this near-whitewash in an average rating constrained match may seem to be a less than spectacular effort by the away team, there were a couple of significant mitigating factors. Firstly, the default meant we were one down before starting, and secondly, Essex benefitted from having an excellent crop of juniors who made up the bulk of the team. Many of these juniors had rapidly enhanced their chess abilities with online play during the pandemic, but the OTB-based grades have yet to catch up. All the Hampshire players played out hard fought games but Essex were simply better.
Match highlights
Notable highlights (apart from Alan's draw, of course) included Philip Ware's patient middlegame play; Manoj Chandar's kingside attack; Maha Chandar's handling of a difficult queens-on endgame, and captain Amanda Jones' heroic efforts in a game which she dominated right up until just before the end. A personal lowlight was my own handling of the Queen's Gambit Accepted, losing a piece but nearly recovering the deficit with some energetic tactical play. No cigar for me though!
Amanda was our match day captain and I was her deputy, as our regular captain, Ashraf Syed, was unavailable to travel. The only reason that I as deputy am writing the report is that Amanda was practically glued to her board while engaged in some intense play for pretty much the duration of her near four-hour game and therefore unable to peruse the other boards as much as perhaps she would have liked.
Well done to all who travelled to Essex, and hopefully the Hampshire Minor 1600 team can register a significant improvement in our next match against one of the Kent teams on Saturday 4th September.
David Culliford
Links