Book Prize 2021 Tournament organiser Peter Przybycin reports on Round 1, and announces the Round 2 player pairings. Plus: tournament results update so far.
Round 1 Report:
We now have a full complement of ten players in each section, thanks to Ian Parker stepping in. This gave Rose an opponent in round 1 of the Minor section. Unfortunately for Rose, Ian won the game!
I extend a warm tournament welcome to two new members; Lee Mundy and Eric Jones.
Lee had what appeared to be a mouse malfunction in his minor section game against Geoff Parish, losing his queen and therefore the game. Unfortunately this is one of the hazards of playing online chess. It's happened before to other players, myself included, and is akin to inadvertently touching the wrong piece in over-the-board games.
Eric impressed by beating Sam Murphy in the major section. Well done.
All the other games went in favour of the higher graded player.
All games in round 1 are now completed.
In the past few days, Manoj Chandar drew with Dick Meredith, and Keith Gregory beat Rob Sims. Both games were played online.
ROUND 1 Results:
Minor section:
Maha Chandar 1, Steve Dunleavy 0
Geoff Parish 1, Lee Mundy 0
Nobby George 1, Steve Saunders 0
Rob Strachan 0, John Kooner 1
Ian Parker 1, Rose Saunders 0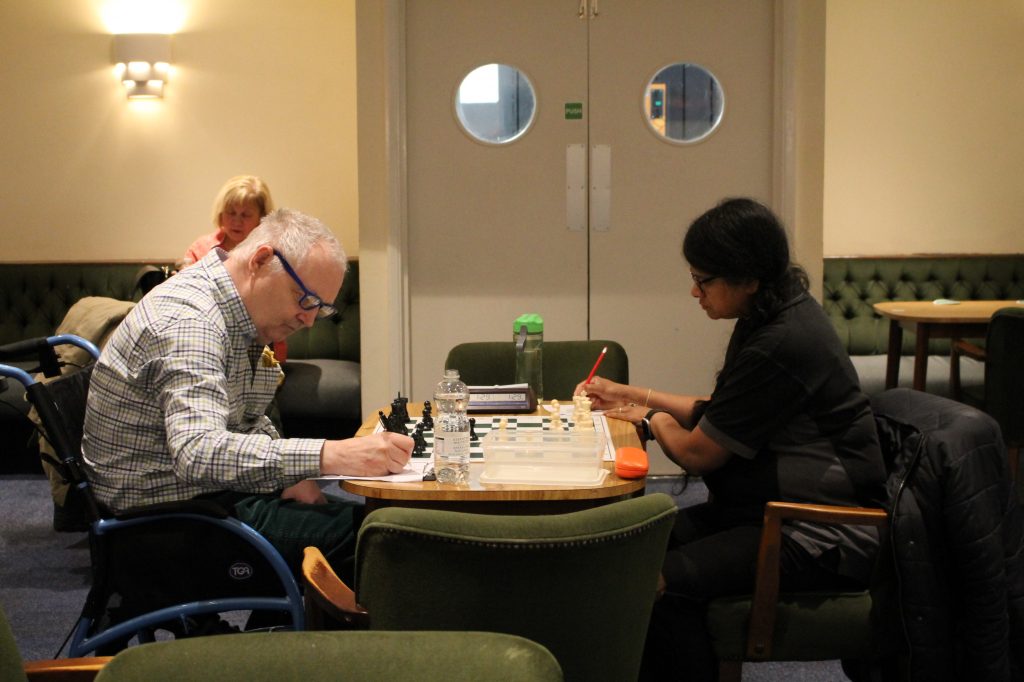 Major section:
Sam Murphy 0, Eric Jones 1
Graham Stuart 1, Keven Lamb 0
Mike Henbury 0, Peter Przybycin 1
Manoj Chandar ½, Dick Meredith ½
Keith Gregory 1, Rob Sims 0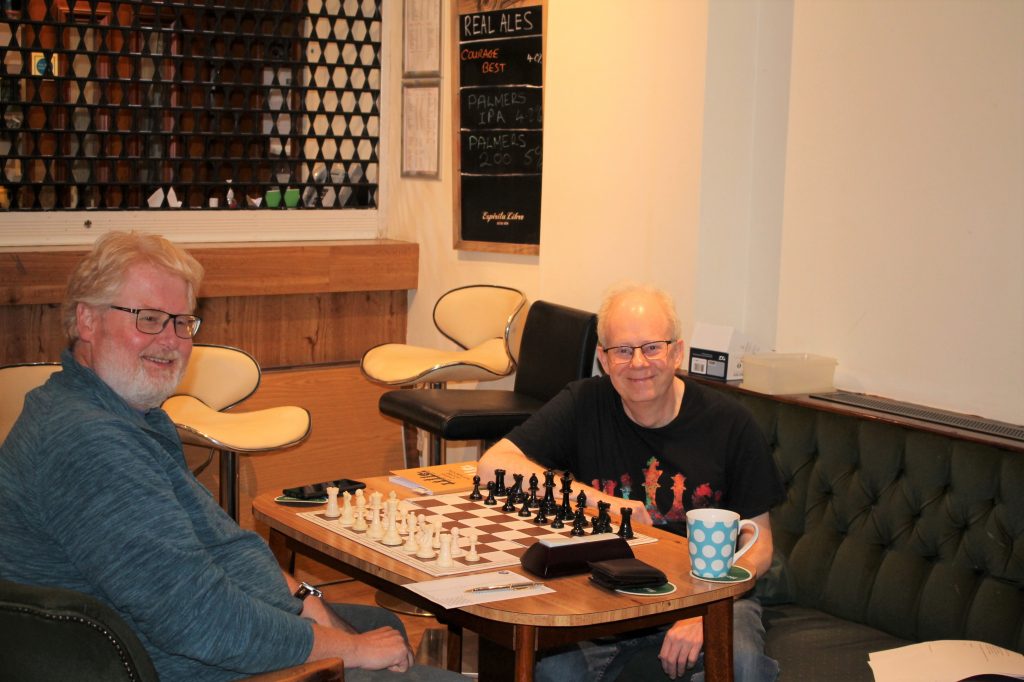 Here are the pairings for round two of the second Book Prize Tournament:
Minor section:
Lee Mundy v John Kooner
Steve Saunders v Ian Parker
Rob Strachan v Nobby George
Maha Chandar v Rose Saunders
Steve Dunleavy v Geoff Parish
Major section:
Dick Meredith v Peter Przybycin
Keven Lamb v Keith Gregory
Mike Henbury v Graham Stuart
Sam Murphy v Rob Sims
Eric Jones v Manoj Chandar
All games in round 2 to be completed by 20th November.
I have added an extra week to allow for the fact that there won't be an opportunity to play on the day of the Club AGM.
There is also an early result in round 2 of the Minor section: Geoff Parish beat Steve Dunleavy.
I was surprised to see that this was also played online, as there is plenty of time left before 20th November to play games over the board at our comfortable chess club. Don't forget, online games will not be sent for grading.
Best wishes,
Peter.
Tournament latest – 7th November.
In the Minor section John Kooner beat Lee Mundy, Steve Saunders beat Ian Parker, and Maha Chandar beat Rose Saunders.
In the Major section Dick Meredith was unlucky to end up with a draw against me, after having much the better of it for most of our game.
As in round 1, the Minor section looks likely to finish this round early. The last remaining game is Nobby George v Rob Strachan, which is understandable as Rob is currently recovering from injury and unable to attend at club.
The Major section has three more games to play.
Peter