The Knockout 2022 Tournament is organised by Steve Dunleavy. The 2022 tournament has a record 26 entrants, and has a preliminary Round plus six byes to establish the Round 1 players.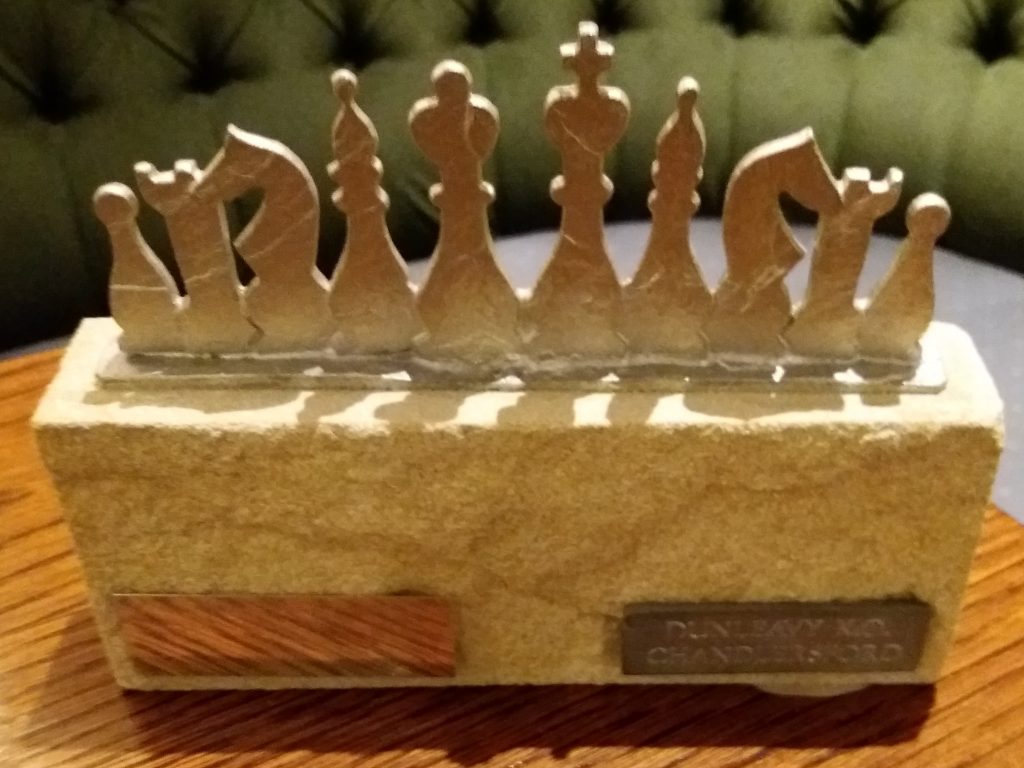 With a record 26 entrants this year we have 6 byes into the first round and 10 preliminary round games to qualify for the first round. If you are defeated in your preliminary round game you are eliminated from the competition. This system will reduce us from 26 to 16, and then 8,4,2 thereafter(for both the major and minor competitions- winners and losers from round 1).
Byes to 1st Round of the Knockout 2022
The six byes into the first round are: Keith Gregory, Lee Mundy, Rob Sims, Steve Dunleavy, John Kooner, and Nobby George.
The Preliminary Round
The 10 preliminary games to qualify for the first round are as follows;
Ewan Cave vs Geoff Parish
Graham Stuart vs Ian Parker
David Culliford vs Rob Strachan
Alan Weaver vs Kev Lamb
Steve Saunders vs Andrew Chivers
Rose Saunders vs Peter Przybycin
Patrick Pavey vs John Pellegrini
Mike Henbury vs Sam Murphy
Daniel Phillips vs Dick Meredith
Peter Eales vs Joseph Henbury
| | | |
| --- | --- | --- |
| White | v | Black |
| Ewan Cave | 1-0 | Geoff Parish |
| Graham Stuart | 1-0 | Ian Parker |
| David Culliford | 1-0 | Rob Strachan |
| Alan Weaver | 0-1 | Kev Lamb |
| Steve Saunders | 1-0 | Andrew Chivers |
| Rose Saunders | 0-1 | Peter Przybycin |
| Patrick Pavey | 0-1 | John Pellegrini |
| Mike Henbury | 1-0 | Sam Murphy |
| Daniel Phillips | 0-1 | Dick Meredith |
| Peter Eales | 0-1 | Joseph Henbury |
Knockout 2022 Preliminary Round
Round 1
| | | |
| --- | --- | --- |
| White | v | Black |
| Steve Saunders | | Nobby George |
| Graham Stuart | | Mike Henbury |
| Steve Dunleavy | | John Kooner |
| Iwan Cave | 0-1 | Keith Gregory |
| Dick Meredith | 1-0 | Lee Mundy |
| Joseph Henbury | | Peter Przybycin |
| Keven Lamb | | David Culliford |
| John Pellegrini | | Rob Sims |
Knockout Round 1
Round 2
Round 3: the Semi-finals
Knockout Round 3: semi Finals
Round 4: the Knockout 2022 Final
Knockout Round 4: the Final
Knockout 2022 Tournament Rules
The basic rules relating to this competition are as follows;
The player named first plays with white
The clock to be set at 90 minutes for both players
In the event of a draw the replay must be played asap after the deadline date with colours being reversed
All games to be played at club other than Mike Henbury who can play his game online (e.g. lichess.org)
All results will be sent for grading
The deadline date to play the preliminary round is the 8th June (i.e. 3 club nights 24/5,31/5 and 7/6, + 1 day)
All results to be emailed to me Steve Dunleavy as soon as the game has been played. – Steve Dunleavy