Coming soon – the Summer Tournament 2022. The pairings and result tables will be added to this Page when the Summer Tournament begins.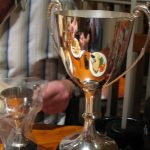 The Summer Tournament 2022 runs during the summer, and is a 5-round Swiss format between May and September. Usually in the Summer Tournaments, the winner's name is engraved on the Kooner Cup and receives a replica of the Cup. The organiser is Malcolm Clarke.
The Summer Tournament is usually 5, but sometimes 6 Rounds over the summer months – about a month per Round. The winner receives the Kooner Cup for a year and usually gets to keep a replica. The games are standard play in terms of time control, 90 minutes each player.
The Games are 90 minutes all moves per player.
When the Round Pairings are announced, the first-named plays as white.
Notify Malcolm Clarke of the results.