This week, the Summer Tournament progresses, with just one more match to go; results of last Tuesday's online Arena Tournament and Thursday's 5-Round Swiss; details of this week's online tournaments. Plus, club history project. And The Queen's Gambit.
Summer Tournament update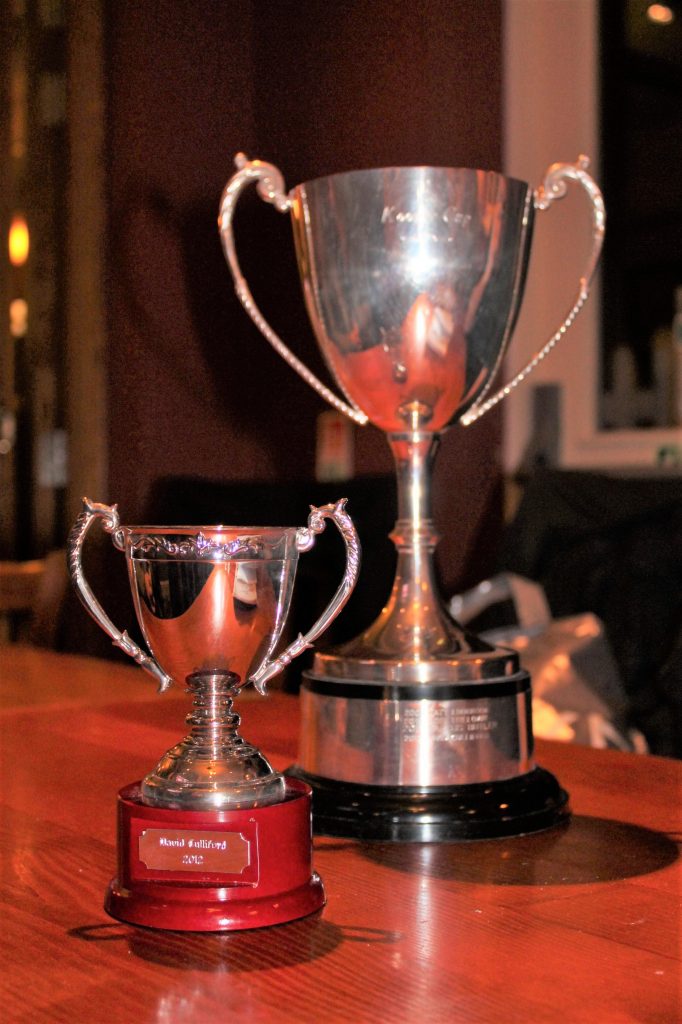 The 5th and final round of the 2020 Summer Tournament progresses well, with just one game to go. Peter Przybycin currently leads on 4.5 points. Here's the 5th Round table:
2020 Round 5 Pairings (last Round)
| | | |
| --- | --- | --- |
| White | v | Black |
| Sam Murphy | | Phil Overton |
| Peter Przybycin | 1-0 | John Kooner |
| Rob Sims | 0.5-0.5 | Maha Chandar |
| Rob Strachan | 0-1 | Steve Dunleavy |
| Rose Saunders | 0-1 | Steve Saunders |
| | | |
| Bye – Don Creasey | | |
Summer Tournament Round 5 Pairings
Tuesday Arena, 20th October
Twelve of us participated this week in the online tournament on 20th October. Congratulations to Sam Murphy on coming first. Well done too David Culliford (djc202) 2nd, and me- Kev Lamb– 3rd.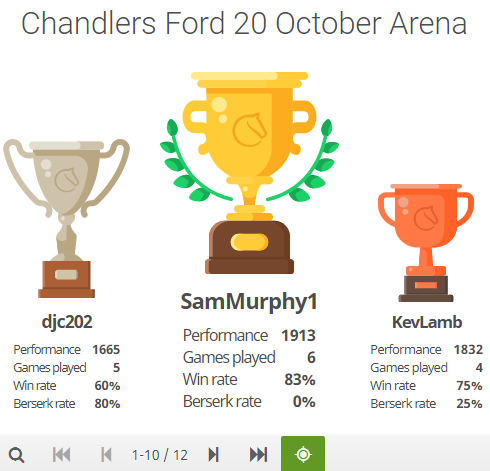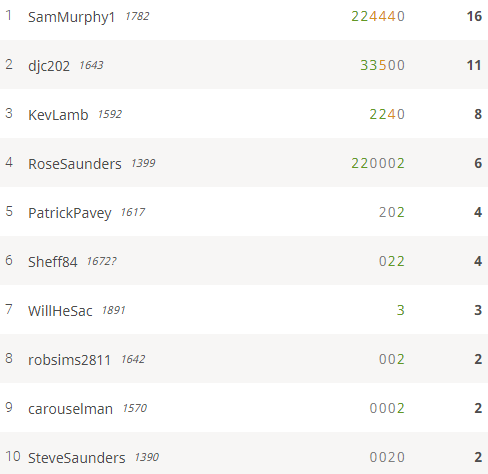 5-Round Swiss tournament 22nd October
Eleven of us played in the Thursday evening tournament on 22nd October. Congratulations to Graham Stuart (WillHeSac) who won this week. Well done too Keith Gregory 2nd, and Mike Henbury (Ewokmike) 3rd.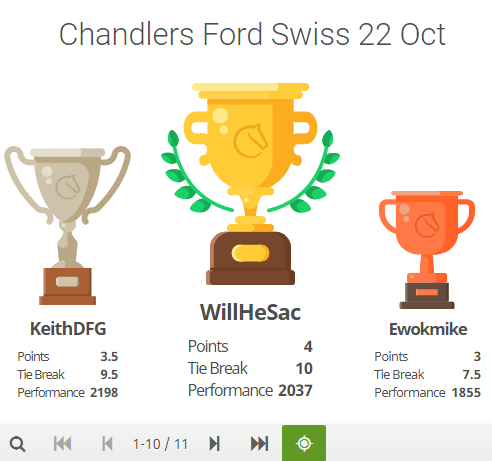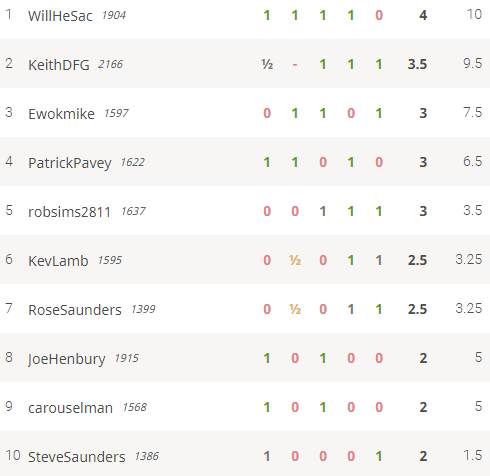 Forthcoming online tournaments
This week our regular Tuesday Arena tournament on 27th October, and a 5-round Swiss on Thursday 29th .
The Chandler's Ford Chess Club Arena Tournament on Tuesday 27th October is at 8pm on lichess.org, and is the usual one-hour 'Arena' event in which players have ten minutes each per game.
On Thursday 29th the club has its regular 5-round Swiss tournament. This starts at 8pm on lichess.org. Players have an initial 7 minutes each per game plus a 3-second increment per move (that is, about ten minutes each).
Chess Club history project
Following on from queries by club regular Steve Dunleavy, examining the history of our chess club has captured the imaginations of many in the club. Current players come from a variety of chess clubs before joining together in our club. We'd like to put together members' recollections and piece together the history of the chess club. Seeing contributions of players' experiences already, this obviously strikes a chord with members. Please send in your thoughts to Rob Sims who is leading the project or me, Kev Lamb.
The Queen's Gambit
Netflix viewer and club stalwart Graham Stuart recommends viewing the series The Queen's Gambit on Netflix.
"Just a quick note, that if you have Netflix the series they have based on Walter Tevis's book (which for my shame I have not read) is now available. Have watched the first three episodes and have enjoyed it so far. The chess is accurate, although they play a bit quickly and think the acting is very good. "

Graham Stuart